If this isn't a step forward in body acceptance, I don't know what is!
Miranda Kerr, the supermodel whose collarbone, ribs, and hipbones were recently on display in GQ making her look like a naked bobblehead, has learned how to
embrace her curves
.
What a long, hard road that must have been for the size-0, 100-pound heavyweight.
But bravo, Miranda — no doubt you've given other Victoria's Secret models the courage to come forth too!
But seriously — am I to understand that the curvy model trend, made popular by
Crystal Renn
(LOVE HER)
, means that other supermodels are going to try to fool us into thinking that they're plus-size too?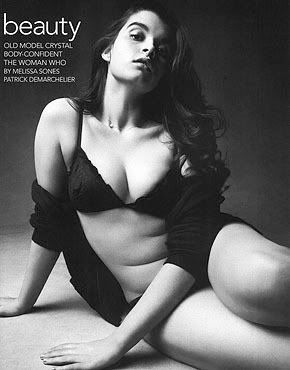 Cause, um, Miranda?
We can see you!